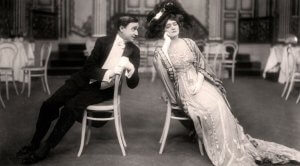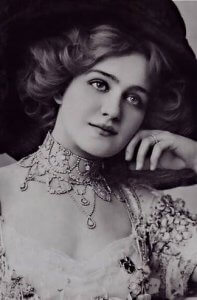 Joseph Coyne & Lily Elsie in The Merry Widow 1907
Thank you to all those who attended the unveiling of the Blue Plaque for Edwardian actress Lily Elsie (1886-1962) on Friday 16th August at her former London home at Stanhope Place, Hyde Park. It really was a lovely, special morning in honour of one of London theatre's greatest stars of the early 20th Century. Special thanks to West End actress and soprano Rosie Ashe for officiating and Roy Hudd OBE and his lovely wife Debbie for their support. Thanks also to Geoff Bowden and his partner David, Victoria Willis and her daughter Flora, Robert Smith my agent, Raymond Langford Jones, Lynn Nortcliff, Mark Abrahams, Peter for taking the official pictures and Dimitri Paleocrassas the current owner of the building. We did Lily Elsie (1886-1962) proud indeed! Graham & I were delighted.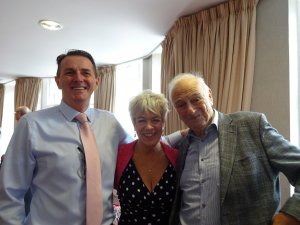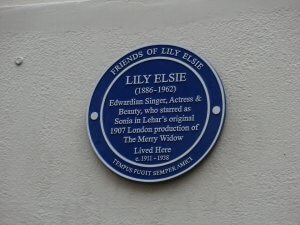 David Slattery-Christy, Rosemary Ashe and Roy Hudd OBE
Thank you for a lovely write up, Raymond Langford Jones I've just spent a fabulous couple of hours at a special event organised by David Slattery-Christy celebrating the life of Edwardian beauty and singer Lily Elsie (1886-1962) – the unveiling of a blue plaque at her old London home in Stanhope Place, near Marble Arch.
Rosemary Ashe, currently appearing in The Secret Diary of Adrian Mole Aged 13 and 3/4 at the Ambassadors, gave a charming speech conveying the essence of the great star of the Edwardian stage and original Merry Widow – who was also a good friend of Ivor Novello. Both personalities, famous during their own champagne-supper times, may now be only glamorous photo images in coffee table books for today's theatre-goers, so we have David to thank for helping keep their spirits alive in his biographies – and by instigating memorials such as this.
The event was also opportunity to chat to the warm, ever-youthful Roy Hudd, presently touring in Dominic Dromgoole's production of A Woman of No Importance where he's covering the entr'actes with period numbers in his own inimitable manner. He's a Croydon boy, so we had lots in common there. I mentioned how I'd always loved the News Huddlines and how June Whitfield was the best 'Maggie Thatcher'. This led on to him telling me how she had landed the job, by nailing the PM in an informal impersonation and obliterating initial concerns as to her suitability for the show.
We went on to decry the death of intimate revue in the '60s, and how its requirement for versatility had once provided a wonderful training ground for emerging actors of an earlier generation, including Kenneth Williams and Maggie Smith.
Rosie Ashe is another, albeit somewhat younger, performer who has kept a high West End profile down the decades thanks to her adaptability and upbeat personality. Thirty years ago I remember seeing her as Hortense in The Boy Friend at The Albery in St Martin's Lane and, during the run, also surprised to find her on a night away from Nice, as the 'breeches' role in Richard Strauss's Arabella at the Coliseum across the road. She was marvellous in both.
Rosie was also one of the best things in The Witches of Eastwick (for which she gained an Olivier Award nomination as Best Supporting Performance in a Musical) and is now sharing a dressing room with Ian Talbot in the cramped backstage conditions of the frantic Mole set-up. She drew a hilarious picture of how, each night after the show, they relax in their underwear swiging back cans of G&T!
What both actors agreed on, was how longevity in the theatre can, in part, be due to getting on with people and being willing to turn your hand to anything that's offered. Professionalism in other words. And, of course, there's that indefinable 'star quality' which they both possess in abundance.
Thank you, David, for a fascinating time!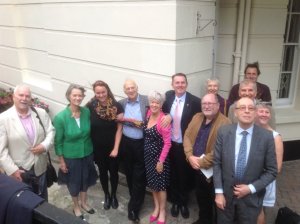 Raymond Langford-Jones, Victoria Willis, Flora Willis, Roy Hudd OBE, David SLattery-Christy, Lynn Nortcliff, Dimitri Paleocrassas, Mark Abrahams, Robert Smith, Debbie Hudd.