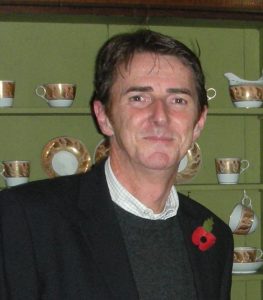 David is an Oxford born award-winning playwright and author featured on BBC Radio and TV. He was the Ivor Novello Consultant on Robert Altman and Julian Fellowes OSCAR and BAFTA winning film GOSFORD PARK.
Naturally Insane! The Life of Dan Leno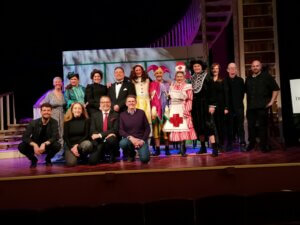 Starring BGT Finalist Steve Royle!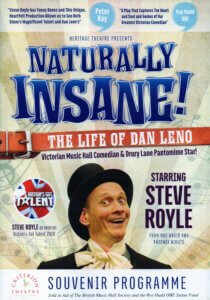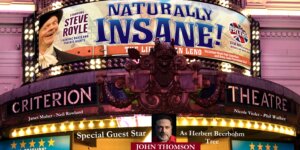 London Showcase held at the Criterion Theatre, Piccadilly Circus, on  Monday 15th November 2021. Thank you to our fantastic audiences!

Special Guest Star as Herbert Beerbohm Tree was actor & comedian John Thomson
                                              "A moving and beautifully-written play about Dan Leno, a Music Hall legend…              Fabulous performances especially from the very talented Steve Royle." Francesca Clementis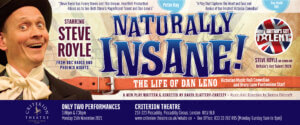 The future performances will be in memory of Roy Hudd OBE (1936-2020) & Graham Greenwood (1953-2021)
"Steve Royle has funny bones and this unique, heartfelt production allows us to see both Steve's magnificent talent and Dan Leno's" (Peter Kay)
"A play that captures the heart and soul and genius of our greatest Victorian comedian, Dan Leno 'The Funiest Man On Earth'. Steve Royle as leno is a revelation – a master comic playing a master comic. (Roy Hudd OBE)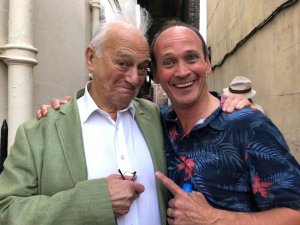 "A supreme performance by Steve Royle…" (Lancashire Evening Post)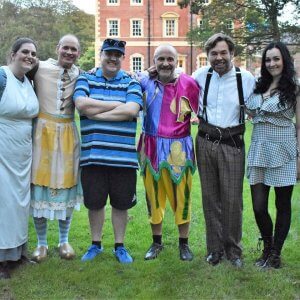 Lovely to see Peter Kay at the Lytham Hall Performance!
"An utter triumph" (Alt Blackpool)
"A standing ovation on a glorious summer evening at Lytham Hall was a tribute to the power of the writing by David Slattery-Christy and a simply outstanding performance by comedian and actor Steve Royle." Toby Stirling (Lancashire Evening Post)

"There is tragedy and there is comedy but in drama when the two melt together like twilight into evening, then you know you are witnessing something very special…" (Entertainment Then & Now)
"He fully inhabits the role and simply is Dan Leno" (Julian Wilde – Evening Gazette)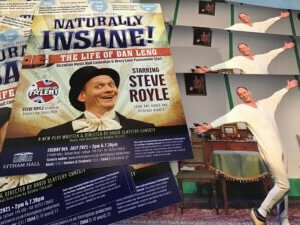 "An award worthy performance…It's a must see." (Robin Duke)
*************************************
Edwardian actress, beauty and singer Lily Elsie (1886-1962), star of Lehar's original production of The Merry Widow in 1907, had a Blue Plaque placed on her former London home at Stanhope Place, Hyde Park, W2.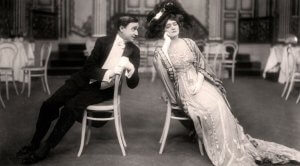 *********************************************************************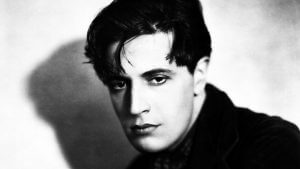 BBC Radio 3 – Composer of the Week – Ivor Novello
With Donald Macleod, David Slattery-Christy, Rosy Runciman and Billy Differ
***********************************
Ghost Lights
Written & Directed By David Slattery-Christy & Music By Ivor Novello and Noel Coward
Finale Concert for London Song Festival 2020
5 Star Reviews for Ghost Lights "Totally fabulous!" (Boyz Magazine) and "Bliss" (Sardines Magazine)
Hinde Street Methodist Church, London
Watch for free via The London Song Festival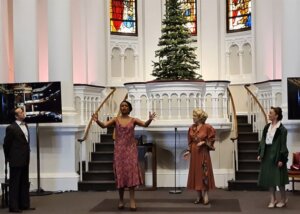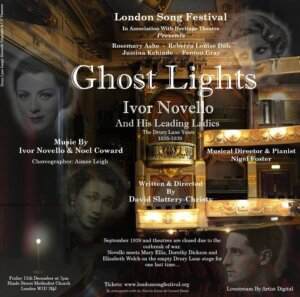 Rosemary Ashe as Dorothy Dickson
Rebecca Louise Dale as Mary Ellis
Fenton Gray as Ivor Novello
Justina Kehinde as Elisabeth Welch
MD : Nigel Foster / Choreographer: Aimee Leigh
BBC Announcer: Steve Royle / Sound Effects: David Brown
************************************************
(Amazon 5* reviews)

In Search of Ruritania – The Life & Times of Ivor Novello

"As latecomers to Gosford Park, we were intrigued by the more than passing references to Ivor Novello. The book is a delightful look into the life and work of the composer of "Keep The Home Fires Burning" and will surely keep your interest on a coast-to-coast flight." (2016)
Phil Stevens – Los Angeles