The Postcard
A TITANIC Play in Two Acts
"Characters sparkle out of it.This is old Ireland, Milkwood style!"
(Derby Telegraph)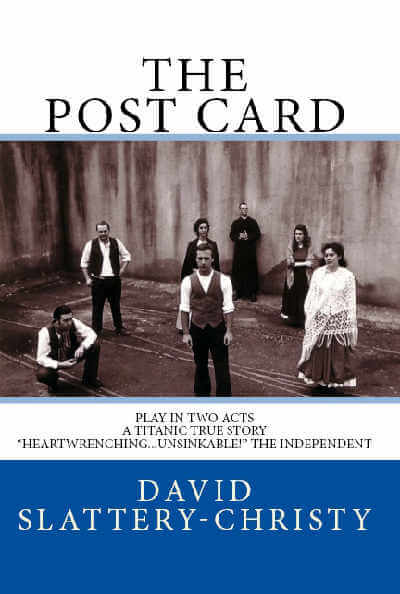 "On April 11th, 1912, a young Irish emigrant sent his sweetheart a post card from Queenstown to tell her he was boarding the Titanic on her maiden voyage. The post card survived to be sold at auction in 1990. The story behind these facts provides the basis for the play – involving Patrick and Mary, a fatal scandal, an unforgiving community, and the lovers sadly compromised best friend, Liam."
The Independent
During the plays performances from 1992 to 1996 there were those that scoffed and said that "nobody is interested in the Titanic anymore!" The film TITANIC was later released – they don't say that anymore! Patrick & Mary were joined by Jack & Rose, and their stories will live on for all time and forever be associated with the Titanic and her story – and in memory of Patrick and those who lost their lives that terrible night.
"A powerful and compelling piece of theatre."
Manchester Evening News, 1992
"The strength and fascination of the play is that, rather like a Thomas Hardy novel or a Greek Tragedy, there is an underlying feeling that everything that happens is about to add a drop more oil to the wheels of fate. And this underlying sense of fated tragedy is given added power because Slattery-Christy implicates a whole community with the outcome, propelling the individual characters along their allotted path. It is Liam who emerges as the key player in Patrick & Mary's ill-starred future. What's more, it is his selfish but well meaning interference that decides the final outcome and Patrick's lone departure on the unsinkable Titanic. The human story attached by writer David Slattery-Christy is priceless."
What's On, London, 1996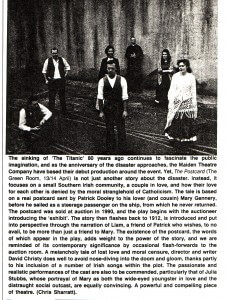 "This tender and tragic tale of love and bigotry is a tragedy within a tragedy, the story of Patrick & Mary, in love but cousins and so, at that time, barred from marrying by the church. The cast of seven capture the whole feel of life in that close knit community, characters sparkle out of it. This is old Ireland, Milkwood style."
Derby Telegraph – 1994.
Listen to David being interviewed about his play by Alan Beswick for BBC Radio in 1992.
BBC-Radio-Manchester-The-Postcard-1992
Listen to an excerpt of the cast recording of Sweet Sixteen, Steal Away and Liam's Lament
The-Poscard-Liams-Lament-and-Vocal-for-Steal-Away-and-Sweet-Sixteen-1994
Published by Christyplays. Print edition includes full cast details for all performances from 1992 to 1996