Gosford Park
OSCAR and BAFTA winning film by Robert Altman and Julian Fellowes
Ivor Novello Consultant – David Slattery-Christy
"Ivor Novello emerges from the mists of obscurity in Robert Altman's movie Gosford Park. But will it be a fleeting encounter with the forgotten matinee idol, or something more enduring?"
BBC Radio 3 – Composer of the Week – Christmas 2016
I am delighted to have been asked to take part in a BBC Radio 3 Composer of the Week that will feature Ivor Novello – for the first time in the programmes 70 year history. As well as acting as a consultant for the scripts, I am also interviewed by the programmes presenter Donald Macleod. There are also interviews with Rosy Runciman (Archivist for Delfont Mackintosh Theatres) at the West End's Novello Theatre in the Waldorf Bar. The images I donated to the theatre when it changed its name to the Novello are displayed in the bar. Billy Differ is the Estates Manager for Delfont Mackintosh Theatres, was also interviewed, and his offices are situated in the flat atop the theatre where Ivor Novello lived from 1913 until his death in 1951. These images were taken on the day of recording at BBC Broadcasting House, the Novello Theatre, and the Flat above the theatre.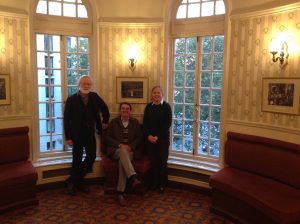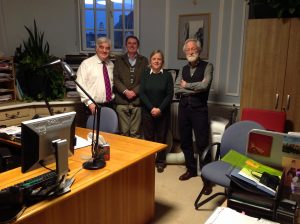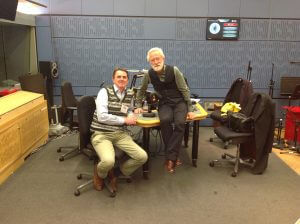 It was a brilliant day of recording, and the programme is produced for BBC Radio 3 by Luke Whitlock. The five one hour long programmes will be broadcast on the 26th, 27th, 28th, 29th & 30th December 2016. Truly a Christmas Special from the BBC that will also include much of Novello's early music that has not been heard for nearly a hundred years.
It's hard to believe I penned the headline above in 2001 to accompany an article to coincide with the release of Gosford Park in the USA and UK. At that time there were few people either side of the Atlantic who would have recognised Novello's name; or have any idea of the kind of celebrity he enjoyed on both continents.
Since the release of Gosford Park and the attention it has brought to Novello, I am happy the public's encounter with Novello's character in the movie has not been "fleeting" but has resulted in something "more enduring". I am amazed at the number of requests I receive asking for more information on Novello – I sense that some people still can't quite believe he was a real person; even less he composed such remarkable music, but also enjoyed a successful career as a playwright, actor and deviser of spectacular ruritanian musicals. It is the main reason I decided to finally write a biography on Novello – In Search of Ruritania.
As  a result of Novello's revitalised fame a West End theatre has been renamed the Novello Theatre as a way of finally recognising his achievements. More poignant because his flat is perched on top of the very theatre that now bears his name. He lived in the flat from 1915 until his death in 1951.
The fascination for Novello was global during his lifetime. His death in 1951 also resulted in the death of his fame – and his large body of work was quickly eroded away during the following decade. By the mid 1960s if his work was remembered at all, it was as old fashioned and melodramatic. His reincarnation in Robert Altman's hugely successful movie Gosford Park has changed all that, largely due to the fact that Novello is the only factual character in the movie – thus a real person that the press have latched on to and can write about with rediscovered interest. A clever strategy by Altman, as it gives an almost sublime reality to the atmosphere of Gosford Park and bases it firmly in the 1930s.
The upstairs versus downstairs angle of the movie allows a realistic glance of how life used to be lived in England during the 1930s. A rigid facade was essential and mandatory when dealing with everyday life and class distinctions were a natural part of that everyday life. Everyone knew their place in the scheme of things. Behind the respective facades in Gosford Park the truthful turmoil of each characters respective lives bubbles and boils away. The truth is always less attractive, and the truth about oneself is hideous. Gosford Park's characters slowly have their layers stripped away while entombed in a Stately Home with no chance of escaping  the house or themselves because the host is murdered. The shooting party weekend becomes one where the Pheasant's and other Game on the estate have no need to worry. Novello's character neither belongs downstairs with the servants or upstairs with the aristocrats and sycophants. He is between these worlds and takes refuge in a world of his own where he entertains as a way of escaping the ugliness that envelopes him. In a strange way you sense that he can see exactly what is going on all the time. But even he has issues of his own interwoven into the lives of those around him.
Jeremy Northam portrays Novello in the movie and does so with great skill. He has captured the essence of Novello without trying to caricature or send him up in any way. Novello was a flamboyant homosexual and the easy route for Jeremy would have been to play him camp. Not so, although his campness is there and subsumed in Jeremy's performance – and why not? It was there in Novello's personality. Jeremy gives Novello better vocal skills than he actually had (Novello was a boy soprano and couldn't sing once his voice broke at the age of sixteen) but does it matter? Novello was happy to sing at his private parties while he accompanied himself on the piano – even if he did struggle to hold a tune.
The choice of songs for Gosford Park was an interesting mix of Novello's revue songs of the 1920s and one or two from his musicals in the latter part of the 1930s. At the time it was debated as to whether they should be included, being post 1932 when the action takes place, but undoubtedly his best melodies were composed for his musicals which began with Glamorous Night in 1935. I put forward two points for their inclusion. I had worked on updating Glamorous Night in 1998 and had access to the closed archives at the Theatre Royal, Drury Lane (where all Novello's musicals played) during which I discovered that a song he had written for Glamorous Night was cut and not used again until 1949 when he placed it in King's Rhapsody – a time lapse of 14 years! Further from that, I had sight of several of his rough musical composition books and in them I discovered he'd composed a rough melody of the song Glamorous Night about the time that Gosford Park is set in 1932. Novello had a habit of jotting down melodies whenever they came into his head , and even giving them titles, years before he ever thought of using them.
My second argument was the simple fact it didn't matter. Very few people even remember Novello today. In my mind it was better to breath new life into Novello through his music which will, I feel, turn out to be his lasting legacy. As Jeremy said in a recent interview for the New York Daily News: "I fully expect people to say, 'He's nothing like him!', or, 'Novello never sounded like that!' And a part of me goes, 'Well I'm sorry, but only Ivor Novello could be Ivor Novello.' Of course that's going to be the case whenever you play someone based on a factual character. What you're trying to do is capture the essence of somebody, pretentious as that might sound. It's not like a comic doing an impersonation."  Jeremy captured the essence of Novello in spades. Watching the day's rushes during filming, his performance made the hairs on the back of one's head stand on end. It was magical to watch him and all the assembled cast were genuinely awed at his achievement.
Those who still remember Novello will, undoubtedly, have their opinions and quite rightly so. However I do believe that the sanitized and bland myths that have grown around Novello have been the main reason for his demise from the public conscience. Novello was a complex character and possessed many talents and a hard business head. No one, not even in the first half of the 20th Century, stayed at the top of their profession without a hard shell to protect themselves with. Novello was a homosexual with a huge sexual appetite and predatory nature. Many a chorus boy fell under his charm. He also went to prison for petrol offences during WW2; many say unfairly and as an example that would generate wide publicity to act as a deterrent. Mention either of those points to the small number of his active fans and their eyes immediately glaze over. They won't talk about these aspects of his character and life experiences because it goes against the ridiculous sanitized version they prefer to believe.
Novello would have hated that, I am sure. He was a man who was open about his sexuality within his own circle. His naivety over the petrol coupon fraud was a serious error of judgement. He acted like a spoilt child when the petrol board refused him petrol coupons for his Rolls-Royce – not such a harsh decision during wartime constraints – and on hearing the news he reportedly smashed up his dressing room at the Aldwych Theatre in the West End. From there he met Dora Constable, an obsessed fan, who said she could get petrol through her work so he could use his car. For her it was a way into his life. It must be remembered that Novello had a popularity akin to someone like Robbie Williams today. Novello was a human being and far from perfect. I leave you to decide who was the more foolish.
Gosford Park is a movie about much, much more than Ivor Novello. The hidden depths to the characters, plot and direction are quite sublime. There is so much going on beneath that repeat viewing will always render something fresh to the surface. Visually it is one of the most beautiful movies I have ever seen and the cast list is stupendous. Credit to Bob Altman for assembling so many great names in one movie. It struck me that many of these people would have been happy to just appear at the back of a few frames as long as they could be in it. All the cast just loved working with him, and had a passion for the story and what the film was trying to do. That certainly shows in the finished product.
David Slattery-Christy