Mildred On The Marne
Mildred Aldrich, Front-Line Witness 1914-1918
"Move over Downton Abbey!" 5* Amazon Review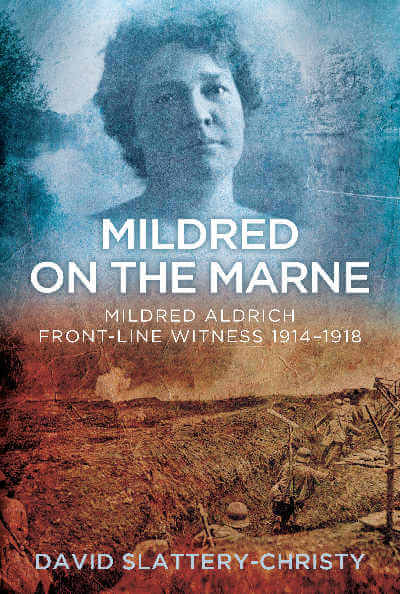 As part of my research for this biography on Mildred Aldrich, I was given access to Mildred's papers and journals held at the Schlesinger Library, Harvard University. I would like to thank Ellen M. Shea and all the research assistants and library staff for their kindness, help and patience. I couldn't have completed this book without them. I also feel very proud that a copy of this book is held in the Schlesinger Library and at other universities across the world.

Centenary of USA Entering WW1 – April 2017
"The sun shines, and my heart is high, this is a great day. The Stars and Stripes are flying at my gate, and they are flying all over France." Declared a delighted Mildred on hearing the news that her beloved homeland was finally entering the war to support the Allies in April 1917. But she added somewhat cautiously after the first rush of excitement: "It is not, I know, today or tomorrow that it will all end; it is not next year, or in many years, that poor Poland's three mutilated parts can be joined and healed in harmony; and oh! How long is it going to be before all the sorrow and hatred that Germany has brought on the world can either be comforted or forgotten! But at least we are sure now of the course the treatment is going to take…"
Published by The History Press. Click link for more details…
(Mildred Aldrich diaries. Mildred on the Marne. Mildred Aldrich Front-line Witness 1914-1918)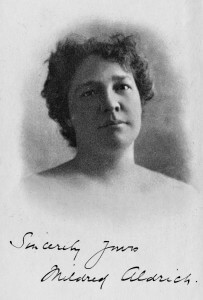 This is the story of Mildred Aldrich and her experiences of the Great War. She retired to a small hill-top house called La Creste in February 1914, with views across the Marne river and valley, little realising she would become embroiled in the first major battle of the war. In spite of the danger she decided to stay and help the British soldiers. Her home was for a few days threatened by the German advance but the British pushed the Germans into retreat and La Creste remained in British territory for the duration. They entrenched in the Marne Valley and Mildred's 'beloved panorama' as she described the view, turned into the valley of horror and death. Informed by journalist Mildred's unpublished journals and voices of those serving in the BEF, along with historical military background, this book examines events from the unique perspective of a remarkable woman who lived through them.
Forever Nineteen is an award-winning play by David Slattery-Christy based on Mildred's experiences in the Great War. It is set in her house La Creste in 1914 and the present day. You can find out more by visiting the
FOREVER NINETEEN page on this site.
David with Jeff Leyton and Jack Marsden on the set of Les Miserables at the Palace Theatre
Forever Nineteen – Best Play & Company.  Les Miserables – Best Musical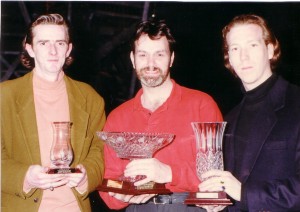 "Move over Dowton Abbey!"
5 Star amazon review in USA –
"Often when reading a book one hopes that it will never become a movie or that if it does, you won't go to see it. But I think more and more readers envision a favorite book as a mini-series, particularly ones produced by the British. This book should be at the for front (pun just happened) of BBC mini-serialism.
It has a heroine with an upper case `H" in Mildred Aldrich, a real historical figure. And a storyline more implausible than fiction: elderly American expat acquires run-down French country (and I don't mean shabby chic) cottage a few weeks before the start of WW I, right in the midst of some of the war's fiercest battles, stays in the house and survives and writes about it! Her books become best sellers.
What more could you want? Dame Maggie Smith or Dame Judy Dench as Mildred (Sorry, I know there are so many other brilliant actors out there, but these two have so ingrained themselves into the international grande dame psyche!)? Benedict Cumberbatch as one of the British soldiers who stop by her garden gate? And Miriam Margolyes as Gertrude Stein, a very close friend of Mildred's (Another classic character actor!) ? We can only wish for such casting!"
"A superb read" M. Harvey
Amazon 5* Review
"I enjoyed reading David Slattery-Christy's MILDRED ON THE MARNE (2013). It's about Mildred Aldrich, an American writer, who bought a house in the country in France in 1914. The First World War breaks out shortly after she moves in, and Mildred discovers that she is living on the edge of the battlefields. DS-C has written an entertaining and informative book which splendidly brings to life Mildred's experiences during the war. The book describes how she provides tea and sympathy to the French and British soldiers, and one American, who arrive at her house. We learn about her relationship with Amelie, a woman from the nearby village, who helps her run the house and becomes a good friend. The book quotes extensively from Mildred's letters, often to Gertrude Stein and Alice Toklas (who visit her), and from letters sent to Mildred from soldiers she had met. The letters vividly describe the effect of the war on the local community, and the horrors perpetrated. The book, of necessity, describes the developing military situation, and troop movements and behind-the-scenes negotiations of generals. There is just enough of this to make the story clear, any more would have diverted too much attention away from Mildred. Mildred doesn't conceal her hatred of the Germans and is embarrassed by America's slowness at entering the war and publishes a book to draw the USA's attention to it. I think the book would benefit if there was a map showing Mildred's proximity to the war zone. I think it would make an excellent film.
"Amazing Mildred!" R. Langford Jones
Amazon 4* Review
"In Mildred on the Marne, David Slattery-Christy tells the story of a fascinating, extremely likeable yet strangely overlooked heroine of WW1. There's been no shortage of books and plays over the past few years about the appalling events of the years 1914-18, yet few that evoke quite as well the immediacy of it – and the way it affected the lives at that time of people living in rural France.
Mildred Aldrich was an American journalist, a well-educated and integrated spinster working in Paris. Aged 60,but short of money, she chose to move to a simpler life in the French countryside, renovating with financial assistance from her friend Gertrude Stein, a small house La Creste overlooking the Marne Valley. Little was she to know that, within a few months, her peace would be shattered, the view from her windows affording her an unwanted Dress Circle seat of the horrific early battles of The Great War. Interlaced with extracts from Mildred's own invaluable logs and related writings, together with those of better known contemporaries, Slattery-Christy presents us with Mildred's life during the following years, showing how she and her friend and neighbour, Amelie, helped maintain the morale of batches of many soon-to-be doomed soldiers as they waited in the wings for the next onslaught. This the women achieved by providing a short respite from the privations of the trenches, mothering the men with kindly chat, cups of tea and sustenance from their own hard-come-by stocks of food – along with water with which to clean themselves up before facing the terrors ahead. The story also provides the background to Slattery- Christy's 1993 play Forever Nineteen which is also ripe for revival.
Printed by The History Press, one of the strengths of this book, apart from its manageability (it is 220 pages of clear type, including an appendix providing background information on the dramatis personae)is the way it steers you clearly through the complexities of the war, and its readability. It's a cliché, I know, but once started, I couldn't rest until I'd finished it. The author has developed a deep affection for his subject and this comes over and draws the reader into Mildred's tale.
Whilst it is a fascinating read for people of all ages, it would also provide the perfect introduction for young students to this tragic – but currently topical – period of European history."