Reviews are in for the premiere of Dan Leno – A Royal Jester! Starring Steve Royle at Lytham Festival 2018: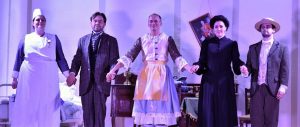 "Congratulations to Steve Royle for an award worthy performance…it's a must see. Good luck to the cast and writer David Slattery-Christy" Robin Duke
"Steve Royles's performance was extraordinary…it took the whole production from being an amazing play to an utter triumph." (Alt Blackpool)
"Slattery-Christy's ability as a writer really shines…the story moves along in such a way as to show the wonderful style and material of Leno's performances, while in the same moment the heartbreak and tragedy of his tortured genius." (Colin Davies)
"There is tragedy and there is comedy but in drama when the two melt together like twilight into evening, then you know you are witnessing something very special…The cast, Nicole Violet, Jordan Kennedy, Louise Steggals, Andy Cooke is excellent with its renditions of music hall songs and choreographed appearances, but it is Steve Royle's night… this performance takes him to a new level…a production not to be missed." (Susan Duke – Entertainment Then & Now)
"A Supreme performance by Steve Royle ensured that David Slattery-Christy's biographical play about Victorian music hall star Dan Leno was both comical, gripping and poignant…he fully inhabits the role and simply is Dan Leno." (Julian Wilde – Lancashire Evening Post / Evening Gazette)
"It was funny, tragic and very contemporary. With mental health, the cult of the individual, finding real self and the perennial themes of love and redemption, not at a time of strength but of great vulnerability.
There was plenty there to leave you thinking about what it means to be human." Dave Blacker
Thanks to Martyn Coyne, Michael Ellison and Andy Hollingworth for brilliant, unusual and fantastic rehearsal and production photographs. These are just a taster –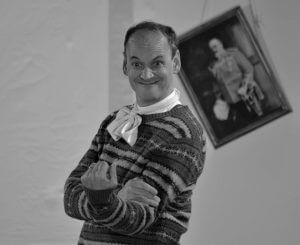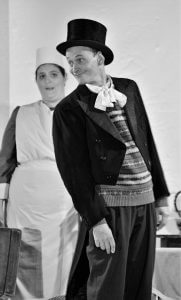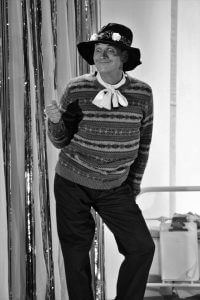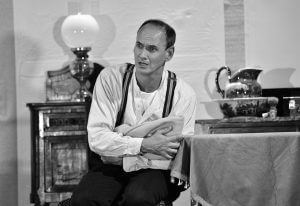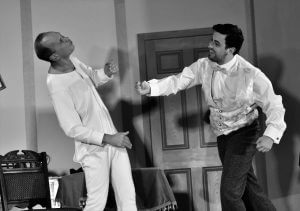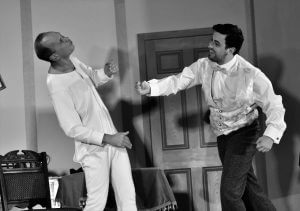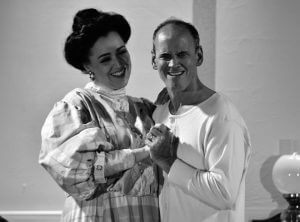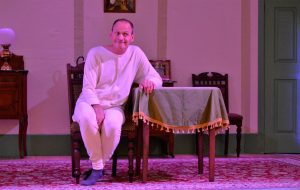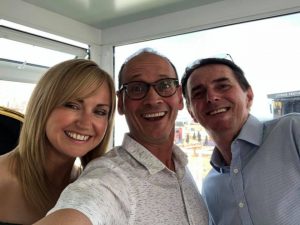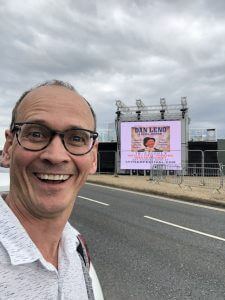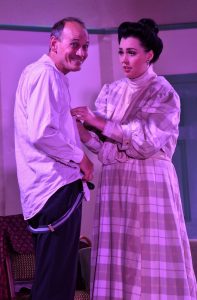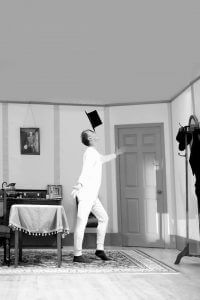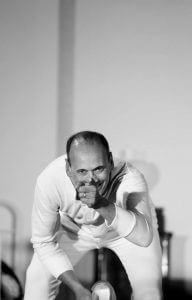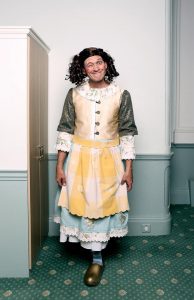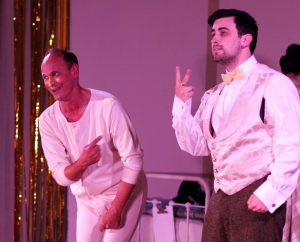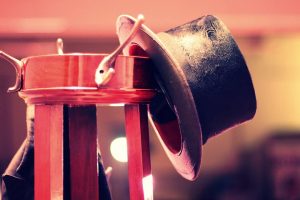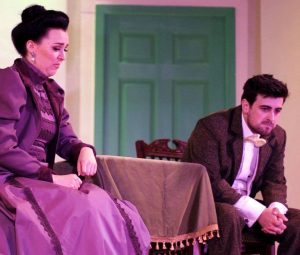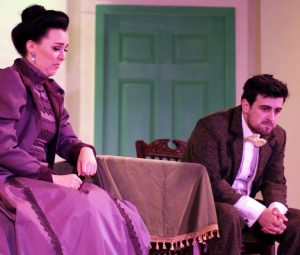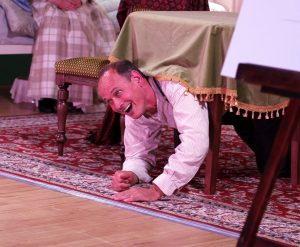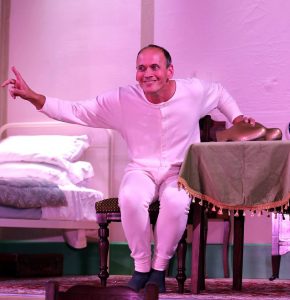 Funnyman Steve Royle from BBC Radio Lancashire and Phoenix Nights will lead the cast in the world premiere of new play Dan Leno: A Royal Jester as part of this year's Lytham Festival celebrations.
The exciting new play, which charts the life of Dan Leno who developed his skills as an artist in the Northern and Lancashire Music Halls and became a champion clog dancer, acrobat and comedian, will take place at Lytham's Wesley Hall Theatre from Wednesday July 18th to Sunday 22nd.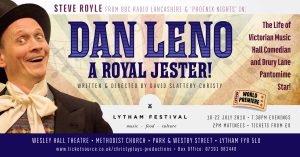 Written & Directed By
David Slattery-Christy
This exciting new play charts the life of Dan Leno who developed his skills as an artist in the Northern and Lancashire Music Halls and became a champion clog dancer, acrobat and comedian. He then went on to become a huge celebrity in the London theatres and established his name as the pre-eminent pantomime star at the Theatre Royal, Drury Lane, where he created some iconic dame roles, and became a favourite of King Edward VII and the Royal family.
Playwright David Slattery-Christy said: "It's exciting to bring another new play to the Lytham Festival as an official event. This play has been in my head for a long time – but it wasn't until I saw Steve Royle's performance in a show last year that I finally discovered an artist who I felt could portray Dan Leno and his comedy. Dan's story is funny and sad in equal measure – and the play also includes some classic music-hall songs of the period."
"I am flattered and thrilled to be asked to play this legendary music-hall star," said Steve Royle, adding, "Dan Leno was as passionate about pantomime as I am and hopefully I will be able to do him justice? I began as an actor with Oldham Theatre Workshop 30 years ago and I look forward to taking on the role with excitement and fear in equal measure."
The play will run from Wednesday 18th July until Sunday 22nd July at the Wesley Hall Theatre, Methodist Church, Park & Westby St, Lytham FY8 5LU. Evenings Weds to Sat at 7.30pm. Matinees Fri & Sun at 2pm. Tickets from £8. Day Seats £10. Further casting to be announced.
Available for interviews and features. Please call David Slattery-Christy on
Cast
Steve Royle – Dan Leno
Andy Cooke – Doctor Savage / Henry Beerbohm Tree
Jordan Kennedy – Henry Wild Galvin (Dan's brother)
Laura Nicol – Lydia Leno (Dan's wife)
Louise Steggals – Nurse Kelly
The play includes original Dan Leno character monologues and
popular music hall songs of the period.
Choreography: Debra Smyth       Musical Director: Darren McNeil
Costumes: Gillian Wood            Sound Design: David Brown
Set Design & Construction: Graham Greenwood & Christyplays
Lighting: Dan Creasey & Congo Design
Christyplays is a cooperative of North West based professionals.
Dan Leno (George Wild Galvin) 1860-1904 – was born in London into an impoverished music-hall family. His parents worked the northern music-halls of Manchester and Lancashire. His father died when he was four and his mother remarried. Dan spent much of his childhood performing with his family and brother billed as 'The Great Little Lenos'. It was in Lancashire he was taught to clog dance and became a champion. After an accident on stage when he hurt his back be moved his performance away from tumbling and contortion and developed as a patter singer and comedian – it was this development that led him to create gossipy comic male and female characters that his audiences loved. Returning to London he became a big star of the pre-eminent theatres and went on to also star in pantomime at the Theatre Royal, Drury Lane, where he created some memorable pantomime roles such as Mother Goose. His health deteriortated and he began to become irrational and forgetting his lines. He was thought to be insane, and spent time in the Camberwell Asylum, but it is now widely accepted that he was suffering from a brain tumour that changed his personality and eventually killed him at the young age of 43.