Glamorous Night
"Sarah Potts is outstanding in the central role of Militza"
Manchester Evening News – Buxton Opera House 2008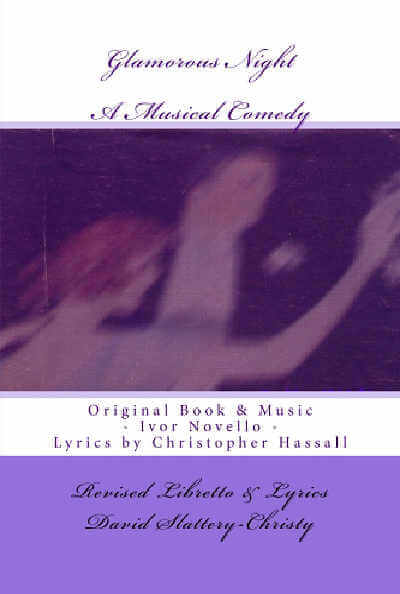 Glamorous Night, a musical play, was first produced in 1935 at the Theatre Royal, Drury Lane, in London's West End. It was the creation of Ivor Novello who wrote the original book and music, with lyrics by Christopher Hassall. Novello wrote the show as a starring vehicle for himself and the American opera diva Mary Ellis – it also starred a young Elisabeth Welch. It was a great success and set Novello on the road to writing other musicals in which he could star with a non-singing role including Crest of the Wave, The Dancing Years, Perchance to Dream and King's Rhapsody.
Synopsis: We start with the prologue that explains how Novello invented the show on the spur of the moment. He then leads us on the journey with him to spend a Glamorous Night in the Ruritanian land of Krasnia. His character is Anthony Allen. Anthony, a journalist always in search of good copy in the lives of the rich and famous – or infamous – sets off on a luxury cruise. Whilst visiting the Kingdom of Krasnia in the Balkans, he plans to see Glamorous Night, in which Militza Hajos, the opera prima-donna is singing. Militza, the mistress of King Stefan of Krasnia, is to perform in the new opera with her friend, and erstwhile love, the tenor Lorenti. Krasnia is a hotbed of political unrest masterminded by Lydyeff the Prime Minister.
However, Lydyeff's plot to assassinate Militza during her performance is prevented by Anthony, which earns him her gratitude. Militza's departure from the country is urged both by her enemies, who wish to be rid of her, and by friends who fear for her safety. By chance, she and her devoted companion Cleo Wellington join the cruise ship on which Anthony occupies the luxury suite – which Militza tries to claim for herself. Lorenti is also on board, pleased to be leaving troubled Krasnia. During a ship's concert, as Cleo entertains the passengers, a new plot is revealed – to kill Militza by blowing up the ship and making it sink. She and Anthony escape the sinking ship as do their friends. Act Two embraces a Gypsy Wedding and a counter plot – led by the loyal gypsies from where Militza comes from, to restore King Stefan and Militza to public favour and quash the revolution Prime Minister Lydyeff has planned for Krasnia.
Anthony is drawn into the struggle by his love for Militza and saves the King's life by shooting Lydyeff Peace is achieved and the King's threatened abdication is averted, but at the price of Militza giving up her love for Anthony and agreeing to marry Stefan. Anthony must return to England, he has the story of a lifetime but he knows it is one that will never be written. I was first asked to revise the libretto and structure of the show in the late 1990s as a precursor to a West End revival that alas faltered at the eleventh hour. However, the revised version finally had its premiere at the Buxton Opera House in 2008 produced by Present Company, demonstrating the success of the revised version and making the show workable for today's audiences