Elvira
&

I

Puccini's Scandalous Passions!

"Excellent writing and cast…" BBC Radio Lancashire
"Every aspect of the production – the writing, the casting and performances, the set, the stage direction, the venue. Everything was wonderful. I feel privelidged to have been there to witness it and the great work that went behind it. It left a strong impression on me, like I'd experienced what living inside Puccini's world must have been like…what an accomplishment. Congratulations."
Ed Christiano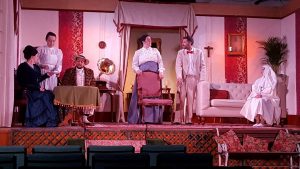 A new two act play from award-winning playwright David Slattery-Christy. Exploring the stormy relationship between opera composer Giacomo Puccini and his wife Elvira. Set in their villa at Torre Del Lago, Italy, in 1901 to 1909, the play unravels their emotional life and also how it mirrored the tragic opera plots he composed during this period including Madama Butterfly and The Girl of the Golden West. The play looks at the complex relationship between them and how it survived numerous affairs, irrational jealousy, and Elvira's slanderous accusations that ended in a tragic suicide.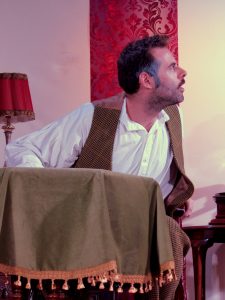 Riccardo Provenzano as Giacomo Puccini
"Expect the play to include music from Puccini's operas which will add great pleasure to the play-performance. Not be missed on any account." @williamglynnehu
"The play-book by David gives a true picture of Puccini late on in life. I am sure a stage performance of the play will be greatly followed." @williamglynnehu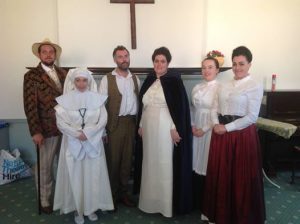 Steve Deveney, Susannah Gilchristy-Woodard, Riccardo Provenzano, Luoise Steggals, Jessica Kuiper and Laura Nicol
4 Star Review from AltBlackpool – Lytham festival Premiere, August 2017
"The life of Giacomo Puccini is one full of scandal and passion. His relationship with Elvira one of volatile jealousy and love. A couple that were as bad for each other as they were good. Puccini the maestro with his "Rock 'n' Roll" status and life style. Elvira, considered common and not good enough for Giacomo, seen as the almost Yoko Ono character by the opera set.
Elvira and I, a new play by the highly respected playwright David Slattery Christy. Based on the research David has done for a Puccini biography, the play documents the life of these 2 characters from Puccini trying to rid his mind of the turmoil caused by writing Tosca by creating the much loved Madam Butterfly, through to his death, via the scandals that plagued his life. It brings forth a much better understanding of  Elvira's role in his work and how, tortured by what nowadays we would understand as mental illness, she would descend in to the darkness of green eyed rage as her absolute love flirted with the maids and went about his not so secret affairs.
Christy's script is solid. The dialogue is apt for the time. I believe Puccini was a massive fan of the F word and SH word. Though, in the heat of an argument Elvira would have the vocabulary of a sailor as well. The author's knowledge and passion for the subject matter is evident in the telling of the story. All the details are there to help the audience understand which period of their life we had reached. The characters are written in a believable way that allow the performers to wear them rather than just play them. It is a play that has been crafted rather than assembled.
The actors do a great job at breathing life into Christy' words. Riccardo Provenzano who plays Puccini may not sound Italian on stage (despite his name) however, his portrayal of a passionate artist is spot on. When he talks about his work, you can feel a real love for it, as if Puccini had himself given him director's notes.
Louise Steggals as Elvira does a great job with all the emotions she has to play. In one of the more subtle moments we see her, without words, become more jealous, and more enraged as Giacomo tells the story of Madam Butterfly's final act. This is something I advise you look out for. It is sometimes too easy to be drawn to the one delivering the dialogue and miss beautiful moments such as this.
Susan Gilchrist-Woodward (Iginia Puccini), Steve Deveney (Luigi Illica), Laura Nicol (Ida Bontura Razzi) and Jessica Kuiper (Doria Manfredi) all put in strong performances that fill out a rich tapestry of family and friendship. This interplay between them all has chemistry and you can see how much it means to them to deliver a performance. Every member of the cast hits the right notes with none of them being any weaker than another. This can only happen with hard work, dedication and respect for an audience.
I have to mention the direction from Debra Smyth. Her understanding of the material is obvious. She lets her actors flow and move. In fact the use of the stage and auditorium is fantastic. The impressive set and costumes, created with advice from the Hollywood experienced Gillian Wood, is used to the maximum effect. Debra has her cast use every inch of the stage with a number of conversations continuing as the characters walk towards the lake, located behind the audience. It's a bold step to allow your players to walk through the stalls as if it was an extension of the stage. This she does with aplomb.
Colin Davies – AltBlackpool – 4 August 2017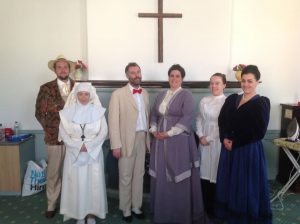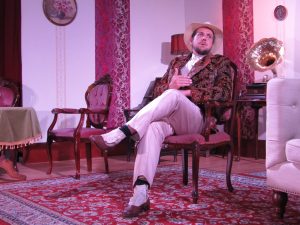 Elvira & I – Puccini's Scandalous Passions!
Written by David Slattery-Christy
Giacomo Puccini – Riccardo Provenzano.
Elvira Puccini – Louise Steggals.
Luigi Illica – Steven Deveney.
Ida Bontura Razzi – Laura Nicol.
Iginia Puccini – Susan Gilchrist-Woodard.
Doria Manfredi – Jessica Kuiper.

Directed by David Slattery-Christy & Debra Smyth.
Lighting & Equipment by Dan Creasey at Congo Designs.
Sound Effects by David Brown.
Set by Christyplays.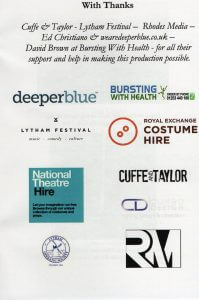 Special thanks to our costume sponsors: Shirley Burrows, Jose Campbell, Jane Cross, Jim Cross, Catherine Currie, Nicki & Andy Grundy, Raymond Lnagford-Jones, Lesley Yalcin.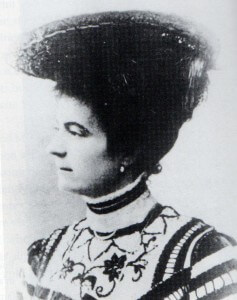 Elvira Puccini