After The Tone
"Stunning in visual and mental scope"
City Life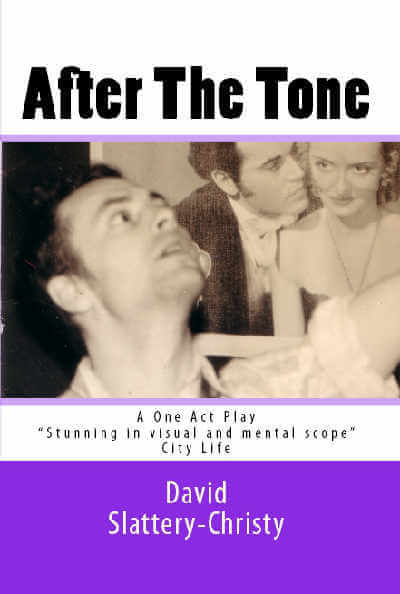 "Oh, my fur and whiskers!"
Quotation taken from Alice's Adventures in Wonderland by Lewis Carroll (1832-1898)
Playwright's Foreword
After nearly twenty years since it was first performed, I wondered how After The Tone would resonate in this mobile communication and social media obsessed time. I had imagined that it would be the one play I constructed back in 1994 that would be stuck in its time and, not firmly anchored to an historical event, would therefore be less relevant today.
On reflection, it seems that the play was about the start of that very technology. Back then it was the humble telephone answering machine that everyone had and started to use to screen their callers, to avoid speaking to those they didn't want to until a more convenient moment. We still create and leave messages, but the technology allows us to dispense with the old fashioned telephone answering machine. Added to this is the mix of facebook, twitter and text messaging. So yes, the play still resonates today.
We still use this technology to sometimes hide behind and avoid those people we can't deal with, as does Daniel in the play. We still text, record and leave messages either on our home telephones, mobiles or smart phones. I imagine there are those who never speak to other people without the aid of iphone or ipad creating an electronic barrier between them! Social media then, ironically, can actually make people less sociable and more isolated.
It occurred to me that I could perhaps rewrite the play to allow for this other social media to be incorporated. I did just that, indicating in the script where, for example, you could have text, facebook or twitter messages between Daniel, his mother, and friend Sheelagh, projected above the action – also facebook posts that reflect the action in the play. This has added a whole new dimension to the play and has been surprisingly easy – although it hasn't changed the play in terms of plot, dialogue and characters, just enhanced them.
I am still asked if the play was based on my own experiences. The truthful answer is no. I won't deny there are some elements drawn from my own personal experiences, as with any writer, but on the whole Daniel is a character I created who stands alone from me. Indeed my own mother came to see the play when it was first performed. She enjoyed the play and never felt it was a reflection of my relationship with her.
I have seen first hand the types of relationships some mothers had with their children. The complexities of guilt, anger and escaping from the clutches of over-bearing and suffocating mothers. Most times it was mothers just being protective towards their sons or daughters. They have a constant need to not only nurture but also to keep alive their role in their child's life. Obviously there are those mothers who take this to a darker and more sinister level. It is another reason I wanted to reflect that kind of disturbing relationship in the play. It fascinated me.
Over the years I was always saddened at the terrible traumas and angst that many young men and women go through coming to terms with their sexuality. And the effects of abuse both physical and mental. I felt somehow at a loss to empathize with them because by comparison my own experience had been rather undramatic. It is why I wanted to explore this trauma of 'coming out' in a play and why we sometimes never speak the truth to those we love, or reveal past harm. Also to use the relationship between a dominant mother and son and a friend who does her best to help to explore these issues. Human emotions are timeless. As is the influence of music, film and other media on our lives – and subconscious.
I hope you enjoy meeting Daniel, Sheelagh – and Mother!
David Slattery-Christy. 2014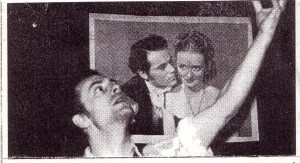 Commissioned for the Manchester City of Drama festival this one act plays deals with the effects of abuse both physical and mental. The chillingly honest portrayal of Daniel's struggle to come to terms with his life, loves, and with the help of his best friend Sheelagh, his suppressed homosexuality. The play has been updated to include Facebook and other social media.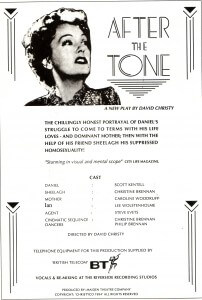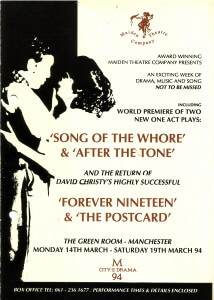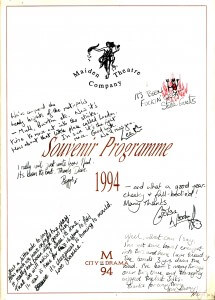 Click here to add your own text